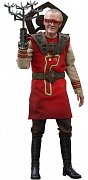 Thor Ragnarok Movie Masterpiece Action Figure 1/6 Stan Lee Hot Toys Exclusive 30 cm
EAN:

906326

Výrobní číslo:

HOT906326
Skladová dostupnost
Dočasně nedostupné
8 070,37 Kč
Please note: This Hot Toys Movie Promo Edition may only be offered at events like shows, store events or a raffle. (not in online shops)

Showed up on Sakaar as the intergalactic barber to The Grandmaster\'s Contest of Champions, Stan Lee was tasked to shear Thor\'s trademark hair. Before giving the God of Thunder a new style with a much shorter hairdo, Stan Lee warned him to sit still because his shaky hands and the swirling haircut apparatus are not a good mix.

Commemorating Stan Lee\'s memorable cameo appearance in Thor: Ragnarok, Sideshow and Hot Toys present a highly-detailed sixth scale Stan Lee® collectible figure as one of the 2020 Toy Fair Exclusive items only available in selected markets! The amazing figure is a continuation of the Stan Lee collection, perfect for any Marvel fan!

The brand-new collectible figure is skillfully crafted based on the screen appearance of Stan Lee as the barber in Thor: Ragnarok, features a newly developed head sculpt with stunning likeness, impressively detailed costume applied with natural weathering effects, cool-looking takes on the trimming apparatus with interchangeable devices in different sizes, framed glasses, and figure display stand.

What\'s more, the barber Stan Lee figure has included a lock of real fabric hair from \"another happy customer\", recreated in a life-size scale collectible accessory to enhance the unique collectible experience.

Need a hair cut? It\'s time to invite the barber Stan Lee to rock your Marvel collection!

Please note: Due to the small edition size and the great demand for this item, allocations are possible.