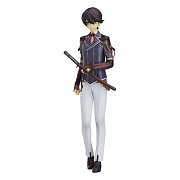 Touken Ranbu -ONLINE- PVC Statue 1/8 Horikawa Kunihiro 20 cm
EAN:

4580416941457

Výrobní číslo:

ORA94145
Skladová dostupnost
Skladem u dodavatele:
>5 ks
6 036,84 Kč
\"Hello? Oh, hello! You wouldn\'t happen to have seen my partner around here would you? Izuminokami Kanesada. Me? Oh, yeah! I\'m Horikawa Kunihiro!\"

From the popular browser and smartphone game \"Touken Ranbu -ONLINE-\" comes a 1/8th scale figure of Horikawa Kunihiro! His standing pose has been faithfully recreated. The polite yet passionate fighter\'s neat face, proper standing pose and slender yet strong physique have all been faithfully captured. Saniwa, be sure to add him to your collection!

This extremely detailed PVC figure measures approx. 20 cm in height and comes in a japanese window box.