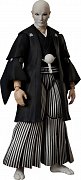 The Inugami Family Figma Action Figure Sukekiyo Inugami 15 cm
EAN:

4571245299086

Výrobní číslo:

FREE29908
Skladová dostupnost
Skladem u dodavatele:
>5 ks
3 749,58 Kč
From the classic 1976 Japanese film \"The Inugami Family\" directed by Kon Ichikawa and originally based on a novel by Seishi Yokomizo comes a figma of the character notable for his unique appearance, Sukekiyo Inugami!

The figure from FREEing´s amazing ´figma´ series stands approx. 15 cm tall and comes with accessories and figure stand.