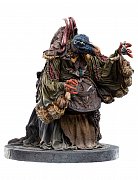 The Dark Crystal: Age of Resistance Statue 1/6 SkekTek The Scientist Skeksis 30 cm
EAN:

9420024729977

Výrobní číslo:

WETA620102997
Skladová dostupnost
Dočasně nedostupné
15 230,30 Kč
When ages of misuse of the great Crystal of Truth means the rapacious Skeksis can no longer draw its power to prolong their deplorable existence, SkekTek the Scientist is ordered to find a solution.
Though by far the most diligent and meticulous of his kind, SkekTek is no less cruel or unprincipled than his fellows. The culmination of his wicked experiments upon the now darkened Crystal propels him to an answer so diabolical that it will reshape the power structures of Thra forever; plunging the world into war.

In order to sustain their wretched lives and preserve their corrupt rule, the Skeksis must forcibly steal the living essence of their Gelfling subjects, gorging themselves drunkenly upon the distilled juices of their captives. Yet in devising this clever solution, the Scientist has also constructed a rod for his own back, for now he must keep the flow of essence constant or call down upon himself the wrath of the Emperor and his terrible punishments.

Dimensions: 25 x 30 x 30 cm

Limited to 400 pieces.