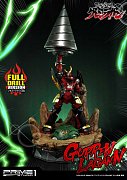 Tengen Toppa Gurren Lagann Statue Gurren Lagann Full Drill Version 102 cm
EAN: 19877858
Výrobní číslo: P1SUDMGL-01FD
Skladová dostupnost
48 166,14 Kč
Prime 1 Studio is proud to present UDMGL-01FD: Gurren Lagann Full Drill Version from Tengen Toppa Gurren Lagann (Anime). Gurren Lagann Head, Lagann, has always been piloted by Simon, while the body, Gurren, was originally piloted by Kamina, who was then succeeded by Rossiu, and eventually Viral in the second story arc. While the Gurren Lagann has mainly been piloted by the series\' main protagonist, Simon, most of the plot has almost always seen both cockpits occupied regardless of the Gurren pilot\'s involvement in the gunmen\'s endeavours. This Ultimate Diorama Masterline Gurren Lagann series brings to life the popular Japanese animation, crafted with attention to details and true to the design of the character. Gurren Lagann statue stands at an impressive 40 inches tall with a key visual that everyone who knows Gurren Lagann will remember this scene. This is the ultimate piece for all Gurren Lagann fans.

Size: 102 x 57 x 58 cm

Limited to just 350 pieces worldwide.

Please note: Due to the size of this item, additional shipping costs may apply. Apart from your location, the actual package size and weight is needed to determine those costs. Both are unknown at this point and may not be available until the product arrives in our warehouse.