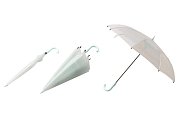 Sousai Shojo Teien Model Kit Accesoory Set 1/10 After School Umbrella Set 10 cm
EAN:

4934054025565

Výrobní číslo:

KTOMV003
Skladová dostupnost
263,34 Kč
Introducing the optional part series that truly brings SOUSAI SHOJO TEIEN characters to life: the \"After School\" series. The fourth in this series is the AFTER SCHOOL UMBRELLA SET!

Having a favorite umbrella can make any rainy day enjoyable!
The AFTER SCHOOL UMBRELLA SET includes various umbrellas that users can enjoy creating different umbrella poses with the model.

Also, an \"eyes closed\" and a \"surprised\" face part that is compatible with Ritsuka Saeki from the SOUSAI SHOJO TEIEN line and additional decal are also included.