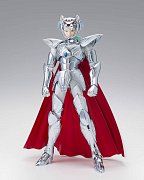 Saint Seiya Saint Cloth Myth Ex Action Figure Zeta Alcor Bud 18 cm
EAN:

4573102632319

Výrobní číslo:

BTN63231-9
Skladová dostupnost
Skladem u dodavatele:
>5 ks
4 220,88 Kč
Alcor Bud, the shadow God Warrior who is Syd\'s elder twin brother, is finally released from Saint Myth Cloth EX series! Two new facial expression parts (a face smiling wickedly and a shadowed face) have been added!

Set Contents: Main body, God Robe x 1 set, Exchangeable expression parts x 5, Exchangeable hand left/right x 5, Exchangeable mask parts, Daggers x 2, Object frame x 1, Mantle parts.

Please note: For this item, demand is expected to be higher than the available quantity, which may result in allocations or cancellations of quantities ordered.