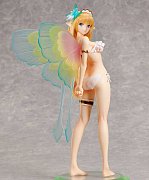 Original Character by Tony Statue 1/5 Faerie Queen Elaine (Wig Ver.) 30 cm
EAN:

4562271931675

Výrobní číslo:

NAT93167
Skladová dostupnost
Dočasně nedostupné
6 774,63 Kč
Faery Queen Elaine with wings befitting for a queen.

A spirit of nature that occupies that liminal space between fantasy and reality - Tony\'s Faerie Queen Elaine.

? With an ethereal skin so fair she seems to glow in the shadowy forest. ?
? Long and flowing blonde hair, seemingly infused with the sunlight itself, her presence is as ephemeral as the fleeting wind. ?

We\'ve given form to this one true fairy, brought to life by Tony\'s skilled hands.

Smiling softly, she looks over one shoulder - through this unassuming pose, we can see the unmatched beauty of every inch of her body, flattering the figure only a faery could possess.

The vivid colors of her wings are recreated using a transparent material, and the way their color changes depending on how they catch the light is much like the wild nature of a sprite that finds joy enchanting humans.

Her glistening blonde wig not only adds a layer of realism, but allows you this first ever chance to come in contact with a real fairy, brushing or styling her hair.

Standing 30 cm in height as she appears before you, this scale figure of Elaine is truly a vision you can touch.

Wait with baited breath for the day she comes to visit you.