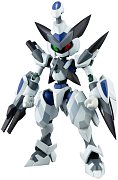 Medarot Plastic Model Kit 1/6 KXK00-M Crossmessiah 15 cm
EAN:

4934054027101

Výrobní číslo:

KTOKP564
Skladová dostupnost
1 460,34 Kč
The main Medarot from Medarot S is joining Kotobukiya\'s plastic model kit lineup!

The Kabuto x Kuwagata-type Medarot, CROSSMESSIAH, is the 11th model from the series to join the lineup.

The sculpting for this model was designed based on the actual game data for Medarot S.

The Charge Buster \"Beetle Gun\" on the right arm, the Charge Blade \"Stag Sword\" on the left arm, and the Full Charge \"Charge Corne\" on its head can be displayed activated or stowed by changing out the parts.

The elbow and knee joints are also newly designed to accommodate for further poseability.

The dialogue part stand features a new design shaped like a Zero Medal.

Like the rest of the models in the series, this model can be transformed. The customizable aspect of the robots in the series is represented in this model kit as well, allowing you to create your very own Medarot!

The kit comes with a pre-painted face visor part to recreate this model\'s unique two-colored eyes. The parts are made of multi-colored plastic, allowing for easy assembly with no painting required!