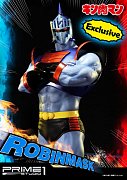 Kinnikuman Statues Robin Mask & Robin Mask Exclusive 74 cm Assortment (3)
Výrobní číslo:

P1SPMKIN-02EXSET
Skladová dostupnost
Skladem u dodavatele:
>5 ks
Prime 1 Studio is proud to present PMKIN-02 Robin Mask from the Kinnikuman manga series.

This assortment contains:

- 2x Robin Mask Regular Version (P1SPMKIN-02)
- 1x Robin Mask Exclusive Version

The Exclusive Version also includes another alternate head sculpt portrait.

Limited to just 500 pieces worldwide. (Exclusive 250 pieces)

Please note: Due to the size of this item, additional shipping costs may apply. Apart from your location, the actual package size and weight is needed to determine those costs. Both are unknown at this point and may not be available until the product arrives in our warehouse.