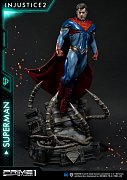 Injustice 2 Statue Superman 74 cm
EAN:

4562471909054

Výrobní číslo:

P1SPMDCIJ-03
Skladová dostupnost
Dočasně nedostupné
23 794,10 Kč
\"How many more innocent people die until you accept that some lives need to be taken?!\"

Prime 1 Studio is excited to present the Injustice 2 Superman Statue! Injustice 2 is a spectacular fighting video game that is a sequel to 2013\'s Injustice: Gods Among Us. It was released by NetherRealm Studios, known for creating the recent Mortal Kombat games. Injustice 2\'s storyline centers around Batman and his allies as they try to rebuild the planet after taking down Superman and ending his regime. However, the arrival of the new villain group called \"The Society\" as well as the arrival of Brainiac forces Batman to free his old friend to help him fight the enemies. The Superman Statue has a sculpted blue costume with textured elements and red and gold accents, including the beautifully crafted iconic red cape. Don\'t miss out to add Superman Statue to your Injustice 2 collections!

Details:

- Measures approximately 74 x 40 x 36 cm
- One (1) designed Brainiac theme base
- One (1) Fabric Adjustable Cape

Please note: Due to the size of this item, additional shipping costs may apply. Apart from your location, the actual package size and weight is needed to determine those costs. Both are unknown at this point and may not be available until the product arrives in our warehouse.