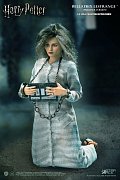 Harry potter real master series action figure 1/8 bellatrix lestrange prisoner version 23 cm
EAN:

4897057888349

Výrobní číslo:

STAC8016C
Skladová dostupnost
Skladem u dodavatele:
>5 ks
Crazed, cruel and unpredictable, Voldemort\'s most trusted lieutenant was Bellatrix Lestrange, the dark witch who killed without mercy. Bellatrix never lost faith in her Dark Lord and she was one of the first he called to his side on his return.

This 1:8 scale figure of the number one Death Eater features her prisoner outfit from Harry Potter and the Order of Phoenix, Azkaban Prison number plaque, a pair of prison shackles, two wands and her dagger.