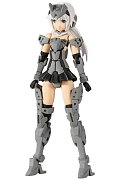 Frame Arms Girl Plastic Model Kit Hand Scale Architect 8 cm
EAN:

4934054028382

Výrobní číslo:

KTOFG090
Skladová dostupnost
Dočasně nedostupné
885,78 Kč
The next product in line to join the Frame Arms Girl \"hand scale\" series is Frame Arms Girl \"Architect\"!

Based on the \"Architect\" model designed by Takayuki Yanase with character art created by Humikane Shimada, ARCHITECT is faithfully recreated in a new miniature scale that can fit in the palm of your hand!

Model Specifications:
- The model kit includes two pre-printed face parts (default, looking forward/shouting).
- This miniature model uses the data from Frame Arms Girl Architect, maintaining a high level of detail and accuracy event at a smaller scale!
- Despite its small stature of 75mm, the model boasts 20 points of articulation.
Two Impact Knuckle units (not Impact Edge) are included.
- The kit includes decals for the eyes and other markings.
- The kit comes with two unprinted face parts (default, looking forward/shouting) for use with the included decals.
- In addition to open and closed hand parts, the kit also includes hands for holding larger weapons, as well as two grip parts for M.S.G. and other weapon parts.
- The kit includes parts to convert the 2mm joints to 3mm in order to make the model compatible with M.S.G. weapons and accessories.
- Back parts are included for users to select between 2mm and 3mm connection points.
- Separate shoulder armor with 2mm connection points is included.