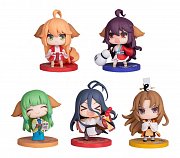 Fox spirit matchmaker chibi figures 5-pack 7 cm
EAN:

4580416923088

Výrobní číslo:

MTH92308N
Skladová dostupnost
Skladem u dodavatele:
>5 ks
From the popular Chinese series \"Fox Spirit Matchmaker\" comes a set of adorable chibi figures! The line-up includes Honghong Tushan, Yaya Tushan, Rongrong Tushan, Wangquan Fugui and Dongfang Yuechu. Be sure to add them to your collection!

Each PVC mini figure stands 6 - 8 cm tall.