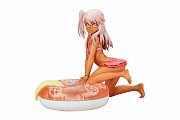 Fate/kaleid liner pvc statue 1/7 chloe von einzbern swimsuits ver. 15 cm
EAN:

4573347242878

Výrobní číslo:

BLF24287
Skladová dostupnost
Skladem u dodavatele:
>5 ks
Chloe Von Einzbern in a swimsuit is on sale as a 1/6 scale figure

\"Chloe von Einzbern\" from \"Fate/kaleid liner Prisma?Illya\" has been made into a 1/6 scale figure. The pose of \"Kuro\", who is active and innocent, rests on his floating ring and boldly opens his legs.
By lining it up with \"Illya\", which will be released in the next term, you can project a scene where two people in swimsuits get along well at the sea.
Please enjoy the cute \"Kuro\" swimsuit by your side.

The PVC Statue stands approx. 15 cm tall and comes in a window box packaging.