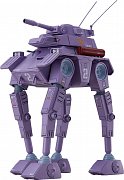 Fang of the Sun Dougram Combat Armors Max 19 Plastic Model Kit 1/72 Abitate F44A Crab Gunner 17 cm
EAN: 4545784012109
Výrobní číslo: MAFC01210
Skladová dostupnost
Skladem u dodavatele:
>5 ks
2 435,07 Kč
The long-awaited four-legged Crab Gunner is now a brand-new plastic model kit!

Ever since Max Factory\'s series of \"Fang of the Sun Dougram\" 1/72 scale plastic models began, there have been many requests from fans to make a plastic model kit of the Crab Gunner, and now we\'re excited to announce that this request is becoming a reality! The plastic model looks great on its own, but be sure to line up the support mecha Crab Gunner with other CB Armor plastic models to create an even more realistic battle scene! Be sure to add it your collection!