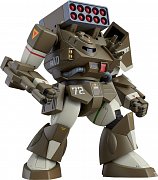 Fang of the Sun Dougram Combat Armors Max 17 Plastic Model Kit 1/72 Ironfooot F4XD Hasty XD 14 cm
EAN:

4545784012024

Výrobní číslo:

MAFC01202
Skladová dostupnost
Skladem u dodavatele:
>5 ks
The 3rd CB Armor variation in the series: the impressive Hasty XD version!

From \"Fang of the Sun Dougram\" comes the third in a plastic model series of Combat Armor variations based on the illustrations of Kunio Okawara, the Ironfoot F4XD Hasty XD, equipped with a 10-barrel missile launcher! Experience the military-themed coloring, reinforced armaments and CB Armor variation design for yourself!