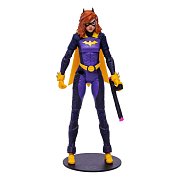 DC Gaming Action Figure Batgirl (Gotham Knights) 18 cm
EAN:

787926153767

Výrobní číslo:

MCF15376
Skladová dostupnost
335,16 Kč
Few people can match Barbara Gordon in terms of raw willpower and determination. Barbara has always been a person of action. In her mind, backing down is never an option. Having one of Gotham City\'s most well-known police commissioners as a father had a massive impact on her. Jim Gordon gave his life for Gotham, and now she wants to make sure it wasn\'t in vain. After a face-off that put Barbara in a wheelchair, she became Oracle, a powerful information and communications expert. With extensive training and rehabilitation, she recovered from her wounds, and returned to active duty as Batgirl.

Barbara is highly trained in a variety of fighting styles, such as kickboxing, capoeira, and jiu-jitsu. Her signature weapon is the tonfa. Barbara also displays great skill when it comes to hacking or coding in computers and technological systems to dig for information.

Key Features:

- Incredibly detailed 7\" scale figure based off the DC Multiverse
- Designed with Ultra Articulation with up to 22 moving parts for full range of posing and play
- Batgirl is based on her look in the video game Gotham Knights
- Batgirl includes a side handle baton and a base
- Included collectible art card with figure photography on the front and character biography on the back
- Collect all McFarlane Toys DC Multiverse Figures

Please note:

The actual figure you receive may vary. There is also a rare variant of Batgirl (chase variant), which will be randomly shipped.