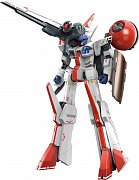 Cruise Chaser Blassty Moderoid Plastic Model Kit Cruise Chaser Blassty 17 cm
EAN: 4580590111967
Výrobní číslo: GSC11196
Skladová dostupnost
Skladem u dodavatele:
>5 ks
2 301,20 Kč
One of the original robot RPG games, and now a plastic model!

From the 1980s PC game Cruise Chaser Blassty comes a plastic model kit of the main mecha Blassty! Blassty can be displayed in both Gunner and Shooter forms using interchangeable parts. The model stands at 175mm in height in Gunner form, features various points of articulation and is made of PS and ABS plastic. Runners are separated into six colors (white, red, gray, black, blue and clear). Various parts such as the canopy and shield have been recreated with translucent parts.