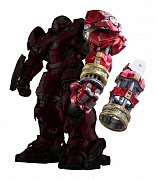 Avengers age of ultron accessories collection series hulkbuster accessories
EAN:

904122

Výrobní číslo:

HOT904122
Skladová dostupnost
Skladem u dodavatele:
>5 ks
As a replacement arm for the heavily armored Hulkbuster, the Jackhammer Arm has created massive damage to Hulk and left a lasting impression on audiences during the Hulkbuster vs Hulk sparring battle in Marvel Studios\' Avengers: Age of Ultron. Sideshow and Hot Toys are thrilled to expand the Marvel collection with a sixth scale Hulkbuster Accessories Collectible set that is compatible with the sixth scale Hulkbuster Collectible Figure!

Meticulously crafted with tremendous attention to detail, the movie-accurate Accessories Collectible Set features a highly articulated Jackhammer left arm with LED light-up function measuring approximately 35 cm in length, an interchangeable Jackhammer locking forearm, and a miniature Hulkbuster Pod.

Combine the Set with the Iron Man Movie Masterpiece action figure (available seperately: HOT902354) to create iconic scenes from the blockbuster.