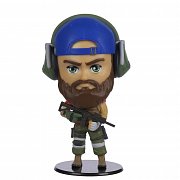 Ghost Recon Ubisoft Heroes Collection Chibi Figure Nomad 10 cm
EAN: 3307216143109
Výrobní číslo: UBI300112036
Skladová dostupnost
Skladem u dodavatele:
>5 ks
440,39 Kč
Ubicollectibles is celebrating all the characters from your favourite games with the Ubisoft Heroes! Start your Ubisoft Heroes collection with this figurine directly inspired by Nomad, the main character of Ghost Recon breakpoint. Striking presence, helmet and caps on, steady gaze: no doubt, you have in front of you the lieutenant colonel who dismantled a powerful drug cartel. All the military attributes Nomad had to keep secret from his family are present in this must-have chibi.

Each figure stands approx. 10 cm tall and comes in a colored box.